The Changing Face of Aged Care: Multi-Level, Urban Development
Australian Unity (AU) is helping change the face of aged care. Low-rise sprawling, often isolated, suburban developments are no longer the only option for those seeking high quality care and facilities. AU has identified a gap in the market. People who have spent their whole life growing up in the bustle of the city and who are used to apartment living can now stay there with AU pioneering the multi-level, Carlton Wellbeing Precinct Project in inner Melbourne.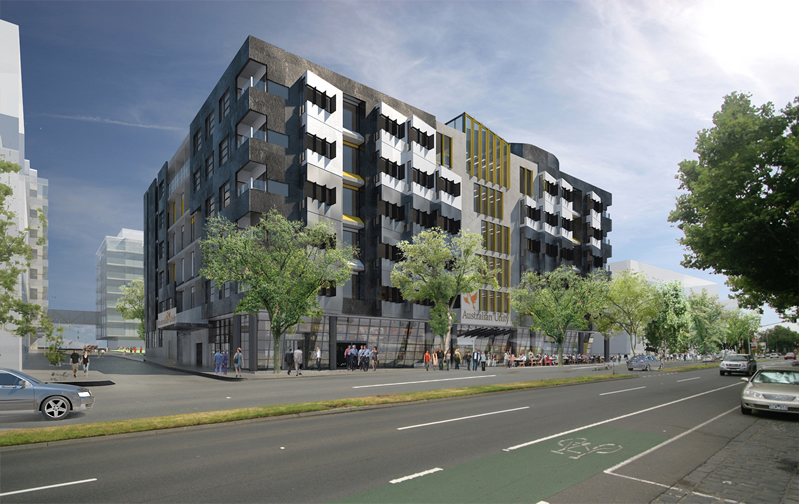 Meinhardt's structural and civil engineering teams are bringing their experience in high-rise residential, hospital and retirement living design to help deliver this unique project.
Designed by Jackson Architecture with Suters, the project represents a significant investment by Australian Unity to provide three stand alone buildings arranged around a new central public park, and will include 5-levels of retirement living, aged and assisted care accommodation and community services.
In a tightening economy, however, the team has had to be budget conscious to ensure the viability of the project with an extensive value management process set-up from the outset as James Hargreaves, Project Engineer, explains: "Early on we worked with the architect to eliminate costly transfer structures and create a flat plate situation for the slab, thus reducing formwork and manual labour costs. As the most expensive part of a building is labour, having thicker slabs and higher material quantities but a simple build is more cost effective.
"By reducing steps and changes in geometry in the slabs it speeds up the cycle time to build suspended floors. This process has reduced the cost to the building and as such allowed more architectural features to remain part of the building post tender, creating a more attractive end product.
"This was all achieved in a very tight design timeframe with scheme to tender in just 6 weeks," he concludes.
As one might imagine there are a number of unique challenges that have had to be overcome.
With some patients being in a fragile mental state, especially those in the dementia wards, careful consideration has been given to the design of the balustrades. The team has designed the precast so the junctions are higher than usual for the slab. Integrated glass panels then create a feeling of openness and provide views from the balconies but with the height ensuring they cannot be breached.
In a traditional apartment building there are numerous party walls between residents. In the Carlton Wellbeing Project, every single floor has an activity room. These are large, column free zones which place significantly higher loadings on the slab and have been particularly challenging to incorporate.
Other areas have been designed like a hospital with lots of penetrations required to incorporate the large number of services needed to improve the indoor environment, such as purified air, and keep in mind the residents, such as a warm water system rather than the traditional hot water.
Striking the balance between high-end apartment living with a facility that supports the services needed for medical and primary care is ultimately what will make this development a success for both the residents and the client.
"Jackson Architecture worked closely with Meinhardt to meet the needs of the stakeholders. Their collaborative design approach enabled the project to be refined through changing budgetary and timeframe requirements, while ensuring the architectural integrity of the building remained. "
Peter Savva, Project Architect | Jackson Architecture