Bruce Matthews 1942 – 2014
It's often been said by people in the industry that, "if you don't know Bruce then you don't know the industry."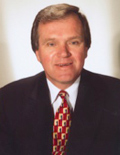 On Wednesday of this week, after a long battle with ill health Bruce Matthews passed away.
Bruce dedicated his professional life to Meinhardt. He was enormously respected by those with whom he worked not only at Meinhardt but also throughout the property industry.
Bruce joined Meinhardt in 1972 as Group Building Services Director and quickly became known for his hard work, positive attitude and sensitivity to client needs.
As Janos Baranyai, a long-term colleague and friend of Bruce said, "Bruce's more than 42 years of continuous service to Meinhardt in influential management roles is something not often achieved or easily repeated. Bruce truly enjoyed his work and his optimism and positive attitude radiated to the people around him. He was also an excellent mentor to the younger professionals and always emphasised the need for proper succession planning and opportunities to be given to the next generation."
Bruce was not just a Meinhardt person, however, he was an industry person. It's often been said by people in the industry that, "if you don't know Bruce then you don't know the industry." Bruce was one of the most recognisable professionals in the property and building industry especially in Victoria. He was a long-standing board member for the Victorian Division of the Property Council of Australia and a Trustee of the Committee for Economic Development of Australia.
Bruce's name is forever connected to the Meinhardt organisation and indeed the broader Australian property industry. He is, and will always be fondly remembered by all of his friends and colleagues who worked with him or knew him over more than five decades of his professional career.
A private funeral service and subsequent memorial is being arranged by the family.
Peter Galvin
CEO Meinhardt Australia
17 January 2014