HSE Initiatives Help Shell Retail Hit Major Milestone
At Meinhardt we take Health, Safety and the Environment (HSE) very seriously. That is why we are proud to announce hitting the major HSE milestone of 365 days TRC free on the Retail Capital Works Program for Shell.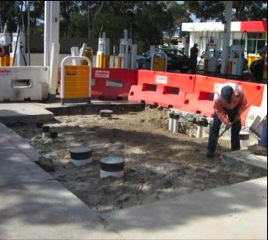 Meinhardt is responsible for the management of Shell's Retail Capital Works Programme and Non-Routine Maintenance Programme for their entire Australian network of over 650 sites.
Over the last year we have invested significant time, effort and resources to improve HSE performance in the field including:
Extending project kick-off briefings to cover all capital works programs (i.e. Pump Replacement, RVIe, VR-I, VR-II)
Implementing new contracting strategies to improve control of high risk projects
Participation in the Front Line Safety Leaders Program and engaging in deeper safety conversations during site visits
Actively encouraging and sustaining a higher rate and quality of site intervention, near-miss and potential incident reporting
HSE is also one of the 4 key knowledge areas of the Meinhardt Centre of Excellence for Retail Fuel which aims to make "Complex Retail Fuel Projects Simpler and Safer Through Supply Chain Collaboration, Research, Innovation & Continuous Improvement."
"This milestone represents 194,317 exposure hours without a Recordable Case across all PMC led projects, which is a significant achievement for the Meinhardt team. What a great result and I would like to congratulate the dedicated focus by Retail Engineering group, Meinhardt and our contractors in successfully achieving this milestone."

Jane Morwick, Retail Business Manager – Shell Retail
Sectors

Capabilities

People